Do you wish you were a more patient person?
World-class Hypnotist Reveals How You
Can "Program" Yourself To Be More Patient…
In just 30 minutes and from the comfort of your home!
"The two most powerful warriors are patience and time." -- Leo Tolstoy
Read this important letter to discover:
How to "program" your mind to instantly become a more patient person...even if you've had a "bad temper" your whole life
The hidden cause of bad decision making...and the surprisingly easy fix you can do today
The secret to having more self-control, even when it feels like you're going to "blow your lid"
Why Entrepreneur Magazine lists 3 Occasions Where Patience Is Key (one involves looking for new opportunities)
Dear friend,
Today's frantic pace of living is having some negative consequences on your mental health.
Technology has changed the way we interact with the world and not always in a good way.
We expect everything to be available the instant we want it.
This has created a society that doesn't understand the value of having PATIENCE.
The worst part is that most people don't even what their lack of patience is costing them.
Consider:
A study by a UC Davis psychology professor shows that "patient people tend to experience less depression and negative emotions."
"They also rate themselves as more mindful and feel more gratitude, more connection to mankind and to the universe, and a greater sense of abundance."
Being patient helps focus on long term goals and makes more rational decisions. Bottom line? Patience = more money in your wallet.
Doing great things takes time (and patience)
"One moment of patience may ward off great disaster. One moment of impatience may ruin a whole life." -- Chinese Proverb
Bottom line: impatience is self-sabotage.
All good things take time.
But when your mind is conditioned for instant gratification, it's hard to learn how to be patient.
This creates an enormous amount of unnecessary stress for you.
I believe this has created a mental health epidemic that no one is talking about in America.
We have a whole society of people who are over-stressed and underperforming in their lives because they have forgotten what patience is.
But if you look at the most successful people in business and in life, they seem to have one trait in common…
Just look at some of these headlines from popular magazines:
Entrepreneur Magazine:

Patience radically increases your capacity for success.
Entrepreneur Magazine:

8 Ways Practicing Patience Radically Increases Your Capacity for Success
Entrepreneur Magazine:

Patience Is the Secret to Boosting Your Profits
Entrepreneur Magazine:

Thriving in Finance Requires Patience and Humility
Entrepreneur Magazine:

3 Occasions Where Patience Is Key
Inc Magazine:

These 7 Surprising Facts About Patience Will Change Everything About How You Live Your Life
Forbes Magazine:

Three Reasons Why You Should Be Patient In Business
Psychology Today:

The Power of Patience
Parenting:

Parenting with Patience: The benefits of modeling patience
Look, the road to achievement is a long one.
If you don't have the patience required to stick to a goal, you'll never achieve anything significant in life.
We all have that one friend who is always jumping from one big idea to the next, but never actually accomplishes anything because they lack the patience to follow through.
But how do you become a more patient person?
I've taken my 15 years of experience in hypnotism and NLP and created a self-hypnosis program to make you more patient.
By now you're probably wondering who I am.
Hi, my name is Jim Katsoulis.
I'm a master hypnotist and practitioner of NLP (Neuro-Linguistic Programming).
I actually trained with one of the creators of NLP, Richard Bandler.
I've been helping people use this "mind hack" for over 15 years.
With over 3000 satisfied clients, I'm pretty used to helping people change their lives.
Keep reading and you'll find out how I do it.
I use a special blend of traditional hypnosis practices combined with NLP (Neuro-Linguistic Programming).
After years of experience, I created a self-hypnosis program that my clients can do from home.
(Not everyone can afford the $997 for a one-on-one session with me)
This isn't the kind of "hypnotism" you see in the movies.
You are actually programming your mind to be patient.
It's just like installing a piece of software on your computer.
You download the software and then your computer is programmed to perform a task or act a certain way.
Your mind works the same way.
You can literally "program" your mind to be patient.
Using my program is just like installing a piece of software in your mind.
It's really that simple.
You'll feel the benefits of having more patience after the very first 30-minute self-hypnosis session.
Things like:
When it's ok to just let things go...and how much calmer you'll feel for it
The truth about having more self-control...and why it's achievable for anyone even if you've been labeled a "loose cannon" your entire life
Are you someone who gets upset when things don't run on schedule? Learn how to program your mind to accept things as they are.
Forbes Magazine: Three Reasons Why You Should Be Patient In Business...Start using your new patience superpower to start making more money now by using my "programming" technique.
If you want to better handle stressful moments that come up in life, then the one thing you MUST have is patience
Better than Xanax! Why programming patience into your mind could replace your expensive and toxic prescription drugs
The #1 reason everyone is so impatient in today's society...and why learning to have patience will give you an edge in your personal and professional life
The single most important trait for having more friends and making more money (and how you can program this trait into your mind in 30 minutes)
You can use self-hypnosis to "program" your mind for patience, too...no matter what level you're at right now.
For the first time ever, I've taken everything I've learned over my 15-year career and put it into an easy-to-follow program.
Instant Patience is a self-hypnosis based program that gives you the patience that you are lacking...even if you don't think you could ever be a patient person.
It helps you overcome the obstacles in your mind to improve your relationships, health, finances and gives you an overall better quality of life.
And the best part…
You can do it all from the comfort of your home or office!
It's like having your own personal hypnotist on call.
What really makes this self-hypnosis work is my secret combination of techniques.
See, I use a blend of traditional hypnosis practices combined with NLP (Neuro-Linguistic Programming).
This is what I call the "secret sauce" of my program.
It's why using my program is just like installing "patience software" into your mind.
And it's why I personally guarantee that this program will work for you.
Introducing The Patience Program
First, you'll take the training session: How To Be More Patient.

This lays the groundwork for how to move forward with your newfound patience.
Then we get down to the magic…
The 30 minute Instant Patience Deep Programming Self Hypnosis session will condition your mind to feel complete confidence. The trick here is getting your mind into a relaxed state to "program" yourself to be patient.
To do so, you will close your eyes and create a neutral state. (I will guide you through this in the program.) This will allow you to access your full potential.
Then you'll experience the outcome that you are seeking. You'll see yourself being more calm. You'll feel yourself being more patient. This is where the "programming" happens.
Finally, you'll use the Patience Reinforcement Session to really set the ideas in concrete so that you can live your life with the highest patience level possible.
Repeat often to build your patience muscle and become a master of patience.
It's really that simple.
But will it take months or even years to work?
No! You'll see results and feel more confident after the very first session.
But just like going to the gym, the more you exercise your "patience muscle" the stronger it gets. Repeat sessions will transform you into a master of patience.
I recommend using it right before you go into a situation where you know your patience will be tested.
The secret is starting to get out about the value of hypnosis:
Just pick up an issue of Entrepreneur Magazine these days and you'll see how hypnosis and success in the business world are becoming intertwined.
With articles like:
5 Science-Backed Ways Hypnotherapy Helps Entrepreneurs Succeed
It Comes Down to Your Subconscious: How Self-Hypnosis Can Help You Attain Your Goals
Tony Robbins and Oprah use this mind-hack to "program" themselves for success...today you can too
Pro athletes and Hollywood stars have known about the benefits of hypnosis for decades.
It's what made Micheal Jordan and Tiger woods the best in their fields (not their athletic skills).
Matt Damon said using hypnotism was the greatest decision he ever made in his life.
Albert Einstein, Winston Churchhill, Ellen DeGeneres, the list goes on and on.
But it's not just rich celebrities that have enjoyed the life-changing benefits of hypnotism.
Here's what some of my past clients had to say:
"Ultimately Led To Getting My Dream Job"
I want you to know that you are such an inspiration to me. Your program has helped me transform my life. I would have never believed it before, but once I began to use your techniques I started noticing changes in my life.
My relationship improved and I was much more motivated in my job which ultimately led to getting my dream job.
Thank you,
Janet Jones
"I Feel Like A New Person!"
Jim,
I feel like a new person! I've never felt as hopeful about my life as I do now, thanks to you. It's easy to see why I kept struggling in the past with creating change in my life. It's because deep down I believed I was a failure and didn't know how to change it. I thank you for giving me the tools to end this self-sabotage and finally take control of my life.
Jane Combs
Nashville, TN
The Bottom Line
When it comes to Hypnosis you get what you pay for.
My fee for one-on-one hypnosis sessions is $997.00.
Sure, you could call your local hypnotist, who most likely does it part-time (I call them hobbyists) and you could go in and let them read you a script for around $100.
But do you really want to waste your time on the cheapest approach you can find? One that's not guaranteed to work? One that doesn't have the "secret sauce" that I have discovered (the reason my program really works)?
The normal price of the Instant Patience Program is $197.
But if you order now during this special offer, you'll get the entire package for just $37.
That's over $400 worth of materials (when you add in the bonuses below) for just $37!
This incredible deal will only be around for a limited time.
After that, the Patience Program will go back to its normal price of $197.
So make sure to order right now to secure the patience you need to move forward in your life.
And with my 100% risk-free trial, there's no reason to wait another minute.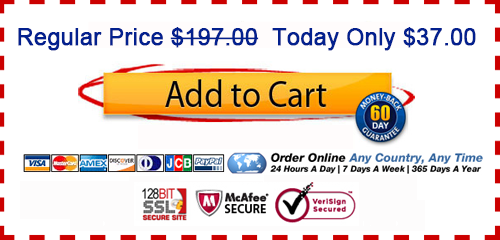 If you order now, you'll also get these bonuses:
Bonus #1
Patience in Traffic
(A $49.95 value)
Do you hate sitting in traffic?
(Who doesn't?)
Yes it seems like a major inconvenience, but It doesn't have to be as bad as many people make it out to be.
Learning to have a little patience while stuck in a traffic jam can change your mindset for the whole day.
You may even enjoy getting stuck in traffic once you learn how to use this time for yourself instead of getting angry about things you can't control.
Just listen to this 10 minute audio program to give yourself the patience you need before heading out on your commute (or while your sitting in traffic).
This can be a game changer for setting the tone for your day.
Bonus #2
Patience Waiting for Others
(A $49.95 value)
One of the biggest struggles my clients have is understanding that the world doesn't run on their time.
Who doesn't get frustrated waiting on others? The problem is that your just causing yourself more stress when you get upset over things you can't control.
Learning to be patient when your waiting for other people can be incredibly calming tool for these inevitable situations.
This 10 minute audio program will give you boost in patience you need you stay calm and stress-free during these trying times.
Don't let today's fast-paced society rob you of your inner peace and happiness.
Bonus #3
Patience Reaching my Goals
(A $49.95 value)
Look, the biggest problem I see with clients who don't have patience is their inability to achieve their goals.
Accomplishing any worthwhile goal takes a long term commitment.
Unfortunately, most people today are too impatient to stick with any of their goals.
If you really want to achieve your dreams, you MUST have the patience to power through the long term.
I've created this 10 minute audio program to give your patience the boost it needs to stick with the long term goals that you have for yourself.
You already know that anything worth doing isn't accomplished overnight.
You must have the determination and patience to see it through.
Give yourself the chance to make your dreams come true.
"Patience and perseverance have a magical effect before which difficulties disappear and obstacles vanish." John Quincy Adams
After you hit the "Order Now" button, you'll be taken to a 100% secure order form to enter your credit card information.
Simply fill out the form and submit your info where you'll be emailed a link to download your Instant Patience program to use whenever you like!
Just grab your computer or smartphone and start the session wherever and whenever you feel comfortable. You can even do the program while sitting on the couch in your underwear! It's like having your own personal hypnotist waiting inside your computer.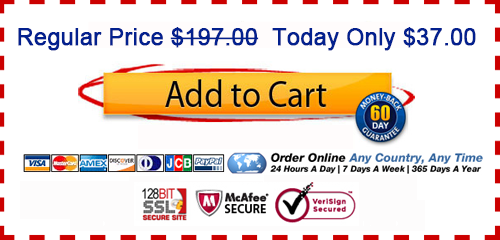 Still not convinced?
Try it free for 60 days!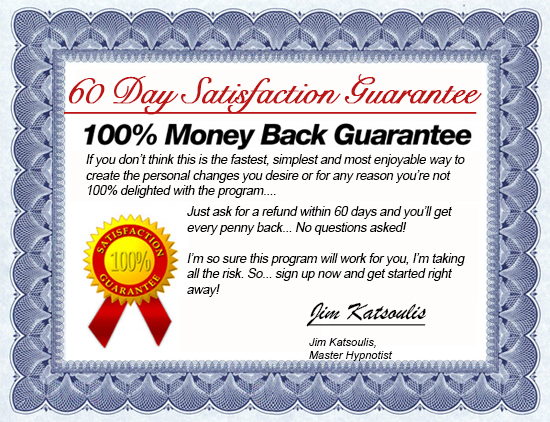 I'm so confident that The Instant Patience Program will change your mindset, and your life, that I am offering a risk-free trial for 60 days.
If you don't love the program, simply contact me within 60 days and I'll give you a full refund, no questions asked. So you only pay if it works! (Spoiler alert: It works!)
You're at a crossroads right now.
You can continue down the same path you've been on and keep getting the same results.
Or you can take control of your life by having the patience required to truly excel.
Patience truly is a virtue.
If you want a less stressful life…
Or if you want to finally accomplish your goals and stick with something long enough to be successful...
Take action right now and stop wasting your most valuable resource (time).
And with my 100% risk-free trial, there's no reason to wait another minute.
See you on the other side of patience.
Your Friend,
Jim Katsoulis

Master Hypnotist
Creator of The Patience Program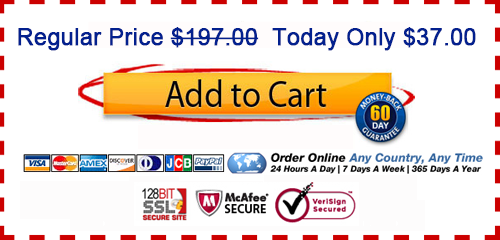 "To lose patience is to lose the battle." -- Mahatma Gandhi
Your Instructor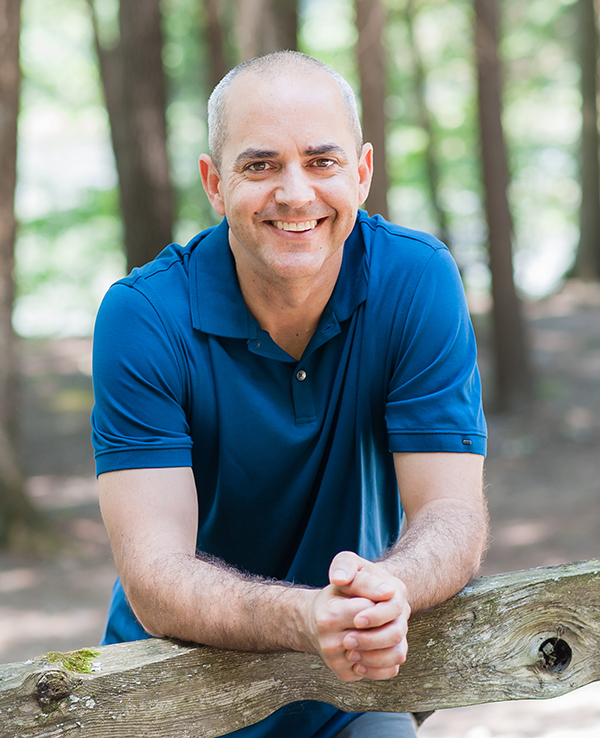 My name is Jim Katsoulis and I can help you change.
Whether you want more health, wealth or happiness the secret to all change lies in your unconscious mind.
I've spent the last 15 years helping people create changes they couldn't create on their own by transforming the way they use their minds, and I believe I can help you too.
Using the most powerful Personal Development, Hypnosis, and NLP (Neuro-Linguistic Programming) Techniques you can take control of your mind and create the results you deserve.
I am thankful for having been able to learn from some of the best people in the fields of personal change. I have been certified as a Master Hypnotist through the National Guild of Hypnotists, the largest and oldest organization of its kind. I have received my Master NLP Practitioner Certification from Richard Bandler, the founder of NLP and received my Yoga Instructor certification from Sivananda ashram in Val Morin, Canada.
One of the great joys in my life is helping people recapture their sense of excitement, passion, and gratitude by transforming their lives.
I know from personal experience after using these methods on myself and others that they can help even when everything else has failed.
And I believe they will work for you too.
to your success,
Jim Katsoulis
Course Curriculum
Training: How To Be More Patient
Available in days
days after you enroll
Self Hypnosis Sessions
Available in days
days after you enroll
Bonus Self Hypnosis Sessions
Available in days
days after you enroll
Frequently Asked Questions
When does the course start and finish?
The course starts now and never ends! It is a completely self-paced online course - you decide when you start and when you finish.
How long do I have access to the course?
How does lifetime access sound? After enrolling, you have unlimited access to this course for as long as you like - across any and all devices you own.
What if I am unhappy with the course?
We would never want you to be unhappy! If you are unsatisfied with your purchase, contact us in the first 30 days and we will give you a full refund.